We're the only publication devoted exclusively to the commercial and recreational pool market. It is the news source for planning, maintaining, managing, and promoting aquatics facilities.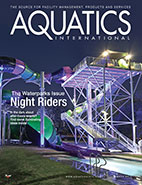 Aquatics International Magazine
brings you updates on safety regulations, equipment and pool programs, and the latest techniques for building attendance and revenue. The magazine includes listings of product suppliers and information on upcoming industry events. It's all the information you need to make your job easier and stay ahead of the competition.
Aquatics International is published 11 times per year - 5 print issues, 5 digital issues, plus a comprehensive annual directory of the community and recreational pool market.
This site requires JavaScript. Please enable JavaScript in your browser's settings and reload the page.