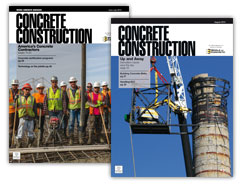 CONCRETE CONSTRUCTION magazine
is the only magazine exclusively devoted to the world of concrete. CONCRETE CONSTRUCTION provides the information needed to be more successful in the concrete construction business. From the technical side of materials and structures to the more subtle side of managing people and money, CONCRETE CONSTRUCTION keeps its readers working more efficiently, safely and profitably.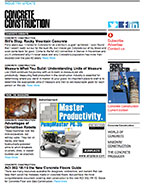 CONCRETE CONSTRUCTION Industry Update
free
email newsletter delivers current industry news and coverage of the latest innovative products to help concrete construction professionals and product suppliers who serve them manage their operations efficiently and profitably.
Previous
Next