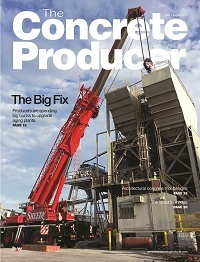 THE CONCRETE PRODUCER Magazine
is the most helpful tool in managing the concrete-producing business. Each issue provides information on materials, plant equipment, accessories, trucks and related products used in the concrete producing market. Producers rely on this magazine as their key source for providing the latest information on how to manage a profitable business. Use this powerful tool to learn how to increase profits and improve your job performance.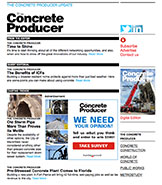 THE CONCRETE PRODUCER Update
our free email newsletter delivers up to the minute industry news and information related to the concrete producing market. Our newsletter also links to THE CONCRETE PRODUCER Web site where you can find articles from the latest issue of THE CONCRETE PRODUCER magazine with the latest information on plant management, concrete production materials, equipment, trucks, and accessories. The perfect companion to THE CONCRETE PRODUCER Magazine!
Previous
Next