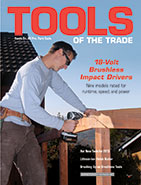 TOOLS OF THE TRADE magazine
is your best source for choosing the right tool for every job, with side-by-side jobsite tool tests that will help you find the right tools for your jobs, comprehensive coverage of new tools, technologies, and trends in every category, and how-to articles that will help you and your crews maximize jobsite performance.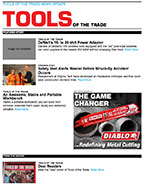 TOOLS OF THE TRADE Tool Update
- our free email newsletter that features cool and unusual tools, tool news from around the country, tool test results, tool user survey results, and much more.
Stay on top of the latest industry news, trends and developments. Sign up for your free subscriptions today!
Previous
Next